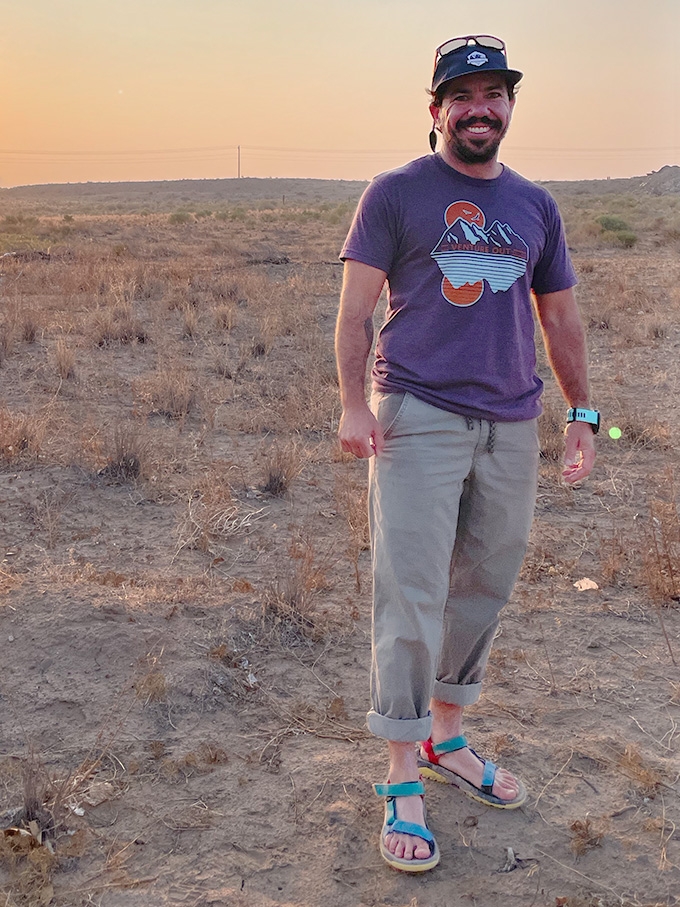 I recently tested Eddie Bauer's Men's Top Out Ripstop Pants while on a camping and rafting trip in Fruita, Colorado and in the Cataract Canyon section of the Colorado River in Utah.
First off, let me say I'm a huge fan of Eddie Bauer gear. Just a few years ago I thought their stuff was all no-iron pants you found at the mall, but now I feel like I am in on a well-kept secret. Eddie Bauer makes fantastic, durable gear and clothes at affordable price points. And it looks good too!
I'm 5'5" tall, 145 lbs, with an athletic build. I typically wear a medium or 31" pant, but Eddie Bauer gear tends to run a little big, so I tested a size small.
Because of my many years as a soccer player and weight lifter, I've got thighs and a butt that can bust through slim cut pants. Something I love about the Top Out Ripstop Pants is that they fit my waist and my thighs. There was no pulling, bunching or tightness around my thighs and butt and I didn't have to cinch the waistband down. Everything just fit!
I wore the Top Out Ripstop Pants on just about every part of my journey, from the plane ride to Colorado to evenings at camp and even short hikes in the hills. I love the versatility of these pants. They kept me warm after a chilly swim, but they are super thin and the pant legs roll nicely so when I needed to catch a breeze or cool off, I just had to roll them up and they gave me room to breathe without requiring me to zip off the legs. And as a person on the shorter size, I love the ability to roll the cuffs and still have them look good.
I like the snap on the cuffs that helps hold them in place after rolling. There's just enough stretch in the pants to make it super easy to stretch or hike in them but at the same time they don't look like sweats or joggers, and the elastic waistband leaves plenty of room for flexible sizing – ie. after a huge pizza fest or when you need a little tighter waist after many hungry days on the trail.
They dried quickly after a brief rain shower came through and they didn't tear when I got caught in a particularly branch-filled section of the riverbank.
If I could, I'd add a secret stash pocket on either the side of the leg or the top of the thigh for my phone/mask. I was missing the side stash pocket that is my go-to phone holder on my Alpine Guide Pants and Shorts. I would make the snap on the cuff a bit more durable. It seems like kind of flimsy plastic that doesn't always stay put.
All in all, I really love these pants and the Top Out Ripstop Shorts as well. They look good, are super durable, fit a variety of body sizes well, and work in multiple environments.